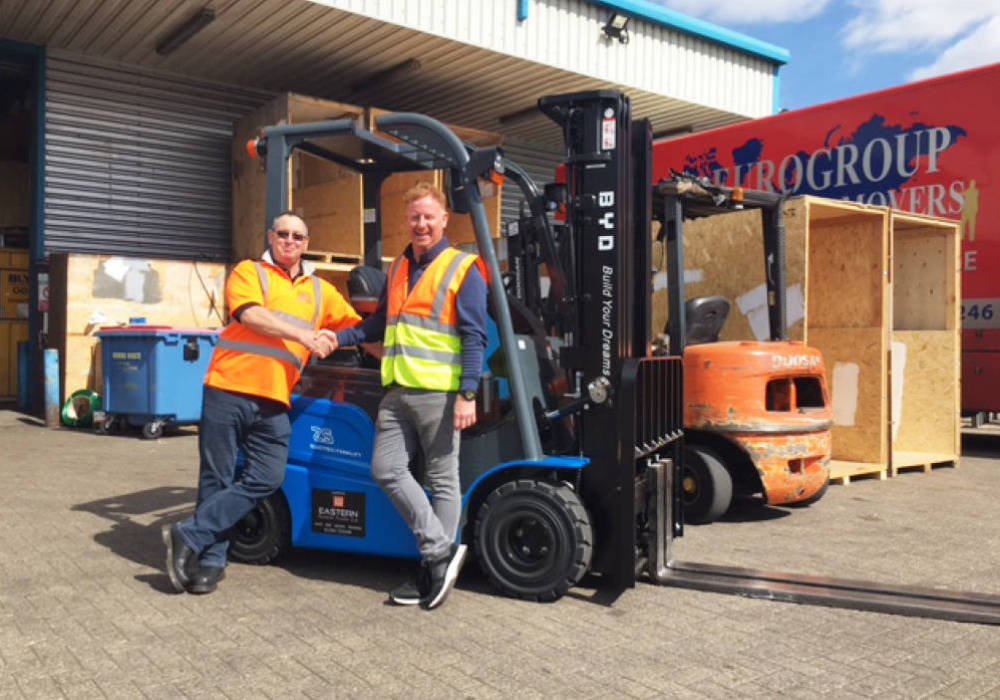 ---
SafePac International who are based in Suffolk, are the UK's largest military removal company. It's a very busy site, too busy for your regular lead acid forklift.
SafePac have embraced the future, and it's out with the old smelly, noisy and costly diesel trucks and in with BYD Lithium Battery. The solar panels installed last year are put to use, and the BYD is fully charged in the lunch hour ready to move American fridge freezers and jukeboxes well into the evening.
Forward thinking Director Dennis Flynn explained:
"Our trucks work hard and we need them to be available for around 14 hours per day. We are a very environmentally aware company and had looked into going electric previously. Our warehouse is next to our offices and the diesel fumes and soot have always been a real problem. Not only that, the LPG is also too expensive to run, so that wasn't an option for us either.
Other forklift truck companies we spoke to advised we were a two-battery operation, which meant lifting heavy batteries in and out of the forklift truck. Our Health & Safety department believed this was not a good option, due to with the risk of finger trapping, acid spills, etc.
When Paul Brierley from Eastern Forklift Trucks came up with the BYD Forklift Truck it solved all our problems. If the team on the shop floor forget to charge the forklift truck, it's not a problem! Twenty minutes charge and it will run all morning. We don't need to change batteries, worry about topping or damaging the battery, all with opportunity charging.
The advantages of the BYD Forklift Truck are huge. We have less dust, no smell and no problems. We give it a full charge in the lunch break when our solar panels are at full strength, so charging is free!
I highly recommend the BYD, it's the future and it's here now!"